Read The Full Grow Journal Here. 
This will be a continual journal of thoughts, ideas, interests and of course grows.
More to come…
…for storage, currently have two of these cases although guessing will need a few more in the future
Current setup is as follows
DR90 II Grow tent (90 x 90 x 180)
RVK 125L1 342m3/hr
Rhino Filter
600/400w switchable Lumatek with Cooltube
Oscillating Tower Fan
Rhizopots with Coco
GHE Flora Series 3 part
PM MagneCal+
Previous grows have used Canna A+B with coco, Biobizz with soil in airpots, all of which were great, just thought try something new
The ballast is usually run at 600w in the winter and 400w in the summer, can sometimes get away with the 600 throughout depending on the weather.
Started a few seeds awhile back
Blue pit, Dog, Southern Charm and Sour Cherry
As mentioned thought of trying something different this run.
Last few grows been using filtered water, nothing fancy just a normal filter jug. Stay in a flat in near the city and the water is extremely hard. It comes out the tap at about 300ppm and ph of about 8.3 = bull$h*t
Only usually have about 4 girls to look after, but it can still become a pain in the ass running the filter.
Anyway my plan was to switch back to normal water and run the GHe hard water formula to try and simplify things.
Normally with the filtered water would need to supplement calcium and magnesium, however expected that the hard water would contain enough and could do away with the calmag.
After about 3 weeks I found this
Here's a close up of the blue pit
You can see the dog on the right (darker leaves) and the baby medicine buddha on the left
Here's a more recent shot of the ladies, they're about 3-4 weeks of flowering …and the dog are 9-10 week strains usually.
Here they are at almost 5 weeks
here's some dog
dog is frosting up nicely
excuse the yellow, didn't get in there in time before lights on
they're starting to fill in nicely now…
shark shock and a cheese cross
blue pit and dog
Week 7, starting to fatten up
blue pit left, dog right, both 9 weeks, bottom chocolate heaven…
Here's a teaser, this is a small sample nug taken from the dog, ready for the vape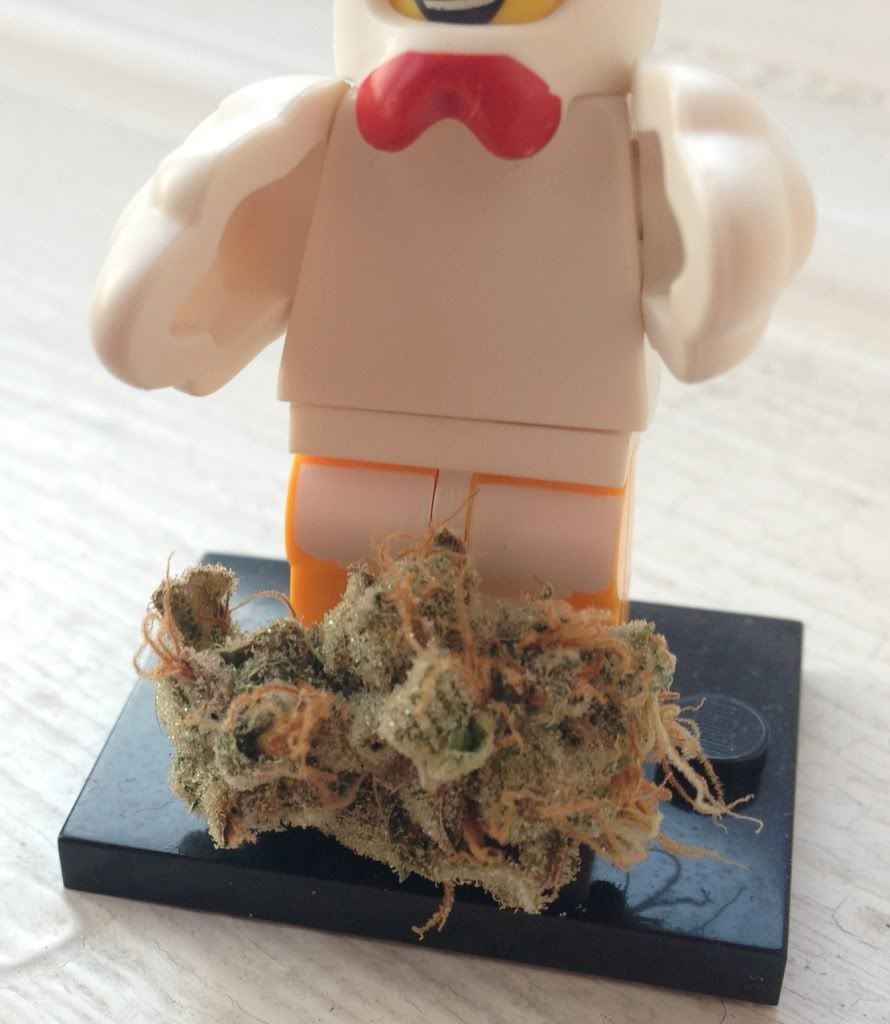 Had a few issues along the way, but live and learn …
Have now gone back to filtered water as the water here is extremely hard and was causing problems.
Also had to replace my lamp, wish I had done it sooner, as it probably cost a bit of weight, on the plus side the chocolate heaven is loving it….
Strain: DOG
Breeder: Breeder's Boutique
Flowering: 11 weeks, recommended 9-10
Method: RAW Papers
Lives up to its name, its bite IS worse than its bark. Smooth smoke and already tasting great with only few days cure.
Combination of all the flavours you'd expect to find in a headband/kush, undernotes of spicy tones, sour fuel, hint of pine, nicely balanced.
Kick to the head, almost uncomfortably high with a good body stone. Nibbed the joint with about a third left, my g/f decided to be a smart ass and go back to have a few more puffs which she instantly regretted lol. Perfect smoke for sitting on the couch with a movie and zoning out. Heavy hitter for sure
Strain: Blue Pit (Deep Blue x DOG)
Breeder: Breeder's Boutique
Flowering: 11 weeks
Method: Volcano Vaporiser
Was hoping this would lean more towards the Deep Blue (Deep Purple x Psychosis x Livers / Blues), which luckily it did.
Although the buds look quite similar this is a lot lighter (can still function, walk around) and more heady.
Taste is good, although I expect it to get better with further cure. The sweet creamy fruitiness from the deep blue blends well with the tastes from the dog.
Seems like a winner daytime smoke.
Comments
comments